This rapid delivery does not apply to products delivery (specify any delivery is clearly with the product). In addition, delivery times, subject to delivery by TNT. These provide in 99% of the cases, the following day.
Choose the delivery date plus time of delivery or pick-up location of your order!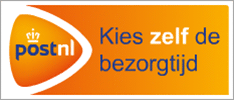 1. Choose the delivery date and the period
Follow the normal ordering process and, of course, the option to to choose the day and the period. You complete your order and receive your package on the desired day (if there is no applicable delivery).

evening Delivery
Optionally, you can also opt for evening delivery (charged + € 1.95) if you are not at home during the day.
What time does the driver package?
Enter your postcode and house number if you (still) do not have a Track & Trace code, but want to know what time to expect the delivery. 2. Products pick up a pickup location PostNL
Follow the normal ordering process and, of course, the option to to choose your desired pickup location. PostNL above a network of more than 2,000 points in supermarkets, bookstores and drugstores. You complete your order and make you pack the following day at 16:00 at the desired pickup location (if there is no applicable delivery).

Get extra early on a pickup location
Optionally, it is also possible to deliver the package extra early at the collection location. You can already morning pick up early (subject to opening hours of the collection point, usually starting at 8:30 am).


3. Package Machines (new!)
Receive and send packets 24/7
The Automatic Packet you decide where and when you pick up your package. Seven central stations in the Netherlands and at Schiphol Plaza is 24 hours a day, 7 days a week. Handy if you are not home during the day, when you often along the drive, or if you want to collect your package if the stores are all closed.
Where are the package Automata?
You can use a package dispenser at the following train stations:
Almere Centrum
Amsterdam Central
Breda
The Hague Central
Eindhoven
Leiden Centraal
Schiphol Plaza
Utrecht Centraal

How can I use this?
If you live this option is automatically displayed in the vicinity of one of these stations for the "Shipping Method" as the pickup location.

You do not live near one of these drives but want to use here?
Then follow the normal ordering process and then choose to "Your data" in the shopping cart at the bottom of another delivery address and type the address of one of these stations. In the next step the option package dispenser will then be displayed.



4. Products with delivery
Please note that if a product delivery mention above condition is not applicable. choose "Products with delivery." The package will be sent once the order is received by us. If delivery applies is clearly stated in the product.

5. Mailbox Packages
Letterbox Packets are always sent immediately (if in stock) and not at a later date. ie you do not stay at home for a mailbox package. These can be delivered through the letterbox.
Parcel mailbox or parcel
If your order is shipped as a package, you will receive by email a
track and trace code.
Letterbox packets is on normal days when standard mail is delivered worried. You receive a message once your parcel has been sent.
Parcel delivery PostNL
Parcel is in 99% of cases the next day (PostNL Package Diest delivered on Mon - Sat), except holidays, worried.
Delivery PostNL mailbox post
Letterbox packets is on normal days when standard mail is delivered worried.
Products delivery
Order your multiple products (delivery without delivery) then
your order be shipped as soon as it is complete.
If you want to receive items asap immediately available insert
for this a separate order. These articles are then if before 16:00
ordered and paid shipped the same day.
Shipping time when paying via iDEAL or bank transfer
iDEAL payments are processed immediately.
Keeps track transfer note that the processing will take longer.
Normally the payment within 1 business day by us.
Belgium payments from 1 to 3 days
What if I'm not home?
Second chance package delivery to delivery via Parcel Post NL.
New delivery options. If you are not home when your order is shipped Ikbenzmooi.nl, you can indicate via www.tntpost.nl/ontvangen where and on what day should be offered again. In your absence makes the driver a message, informing you about the possibilities for a second chance. With a 'non-home-Code "you can before ten o'clock in the evening to select a day and time for delivery to the same address or for delivery at the neighbors. A third possibility is the package delivered to a post office.

What time?
If you do nothing, the package the next day (except Sundays and holidays) offered again at the same address. Through http://www.postnl.nl/ontvangen/ you can see what time the driver package comes about:
Shipping and delivery outside the Netherlands (Belgium, Germany, Europe and World)
Shipping and delivery options, Europe and World.